Which Hifu should I buy?
Views:35 Author:Site Editor Publish Time: 2018-05-24 Origin:Site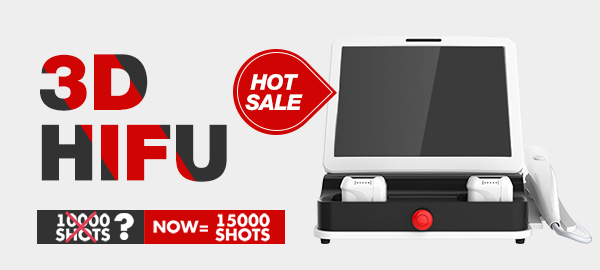 Which Hifu should I buy?
3D HIFU machine is the most popular among Hifu market ,and every clinic has one unit, it is time to update your Hifu machine.
3D HIFU machine high Intensity Focused Ultrasound (HIFU) directly delivers heat energy to skin and subcutaneous tissue that can stimulate and renew the skin's collagen and thus consequently improving the texture and reducing sagging of the skin. It literally achieves the results of a facelift or a body lifts without any invasive surgery or injections, moreover, an added bonus of this procedure is that there is no downtime. This technique can be applied to the face as well as the whole body.
Body fat removal apply high intensity focused ultrasound, generate focused energy and go deeoer into the cellulite to break cellulite. it is an invasive, impressive and long- last effective tratement to reduce fat, especially for abdomen and thigh.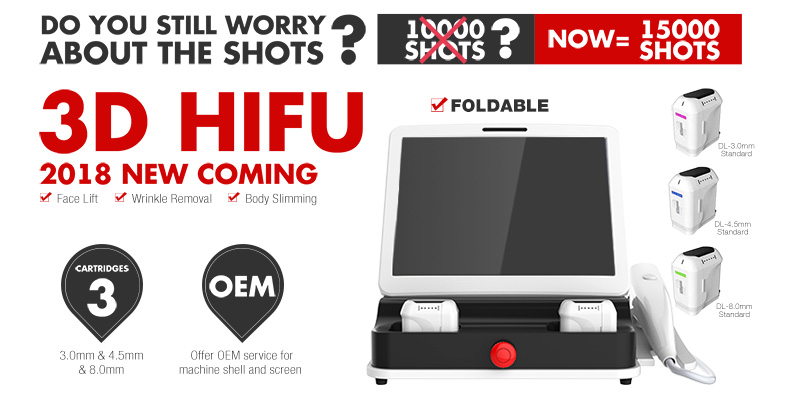 Machine advantages:
1) Equipped with 8 different cartridges, aim to different skin depth. Can be arbitrarily selected.
2) Insert different cartridges, screen will show different treatment area, more accurate than the traditional HIFU screen display. Treatment more accurate, the screen more aesthetic.
3) Super large screen design, 15-inch color screen, external chassis uses the metal material, looks more texture compared to ABS.
4) Machine packing case is a rod aluminum box, easy to carry, except beauty salons also suitable for mobile beauty salons. Inside the case covered with the pearl cotton, better protection the machine, and ensure the safety of transport. When we shipping it out, we will also cover a layer of external cartons on the aluminum case, ensure the safety and clean.
5) A wide range of treatment: facial lifting, wrinkle removal, chest lifting, fat reduction. Multifunctional in one machine, very cost-effective!
6) Fast effect, show the obvious effect on the spot.
7) The distance between the line, the length of the line, the distance between the point, all can be adjusted, operator can adjust the appropriate parameters according to the different customer's skin condition.
3D HIFU machine Function:
1. Remove wrinkles on around forehead, eyes, mouth, etc.
2.Lifting and tightening both cheeks skin
3. Improving skin elasticity and shaping contour.
4. Improving jaw line, reducing "marionette lines.
5. Tightening the skin tissue on forehead, lifting the eyebrows lines.
6. Improving skin complexion, making the skin delicate and bright.
7. Match with injecting beauty like Hyaluronic acid, collagen, to resolve more aging problem.
8. Removing neck wrinkles, protecting neck aging.
9. Body slimming and Body Shaping.
3D hifu is your best choice!
http://www.newangelmed.com/3D-hifu-treatment-effective-anti-aging-lift-skin-and-reduce-fat-FU4-5-4S-pd6361752.html