What is a body composistion analyser?
Views:0 Author:Site Editor Publish Time: 2019-01-11 Origin:Site
What is a body composistion analyser? body analyzer is using for measurement human body health analysis with more than 25 values. Now we will introduce you mroe details.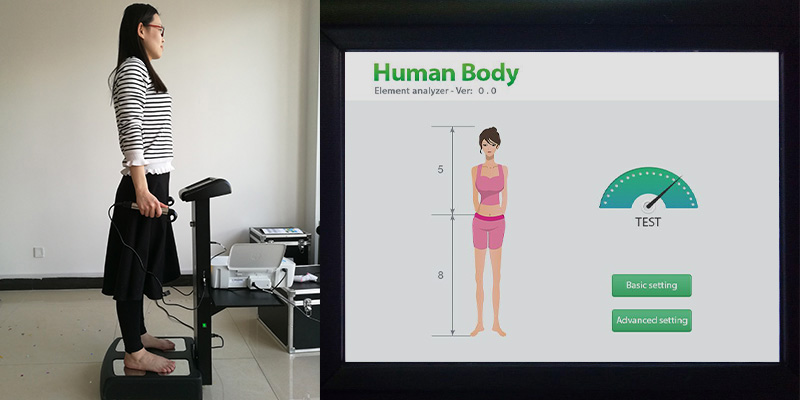 Using the accurate measurement of the AVR microcomputer controller, based on the new DXA method statistics, the human body components are analyzed by multi-frequency bioelectrical impedance analysis (MFBIA): body fat, body weight, BMI (body mass index), non-fat amount, etc. The health index, which effectively indicates the health of the guests and provides a basis for scientific weight loss, is considered to be the epoch-making achievement of the health industry.
1. Test method: multi-frequency bioelectrical impedance analysis (MFBIA)
2. Test site: multiple electrical impedance measurements on the left upper limb, right upper limb, trunk, left lower limb, and right lower limb
3. Test frequency: through 3 different frequencies (20KHZ, 50KHZ, 100KHZ)
4. Electrode method: 8-point contact electrode
5. Output value (25):
Body water content (TBW), protein, inorganic salts, body fat, bone mass, body weight, standard body weight, fat-free body weight, skeletal muscle (SMM), BMI, body fat percentage (PBF), waist-to-hip fat ratio, moisture ratio , obesity diagnosis, nutritional assessment, weight assessment, obesity assessment, target weight, weight control, fat control, muscle control, health assessment, basal metabolism, bioelectrical impedance
The body composition Analyzer is also a Health Consultant, which provides independent health analysis data for each tester to develop new weight loss treatments and dieting exercises.
Applicable to major fitness centers, body centers, physical examination centers, senior clubs, weight loss programs, etc.